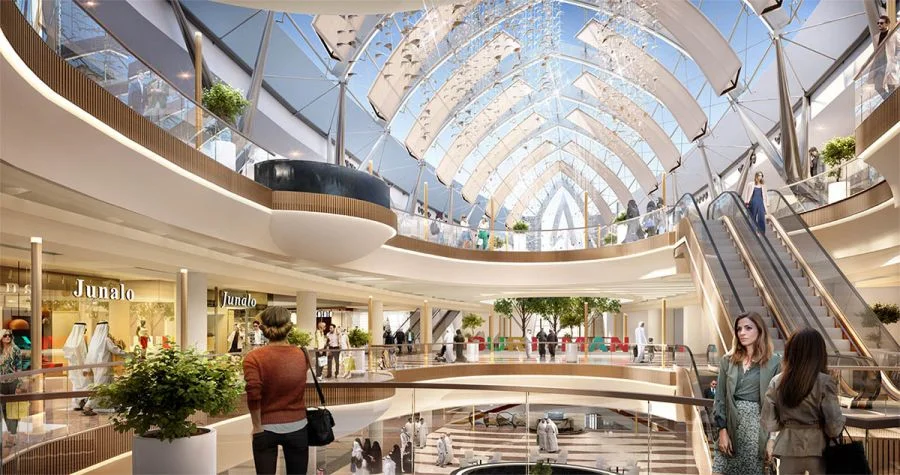 Last updated on January 31st, 2023 at 02:01 pm
Dubai, which has been termed the shopping capital of the Middle East, has earned that reputation due to the presence of the biggest and best shopping centers in the world. Dubai is known as a shopper's paradise and is not an empty boast – it really is. Many tourists from all over the world come here exclusively for shopping. They are lured by the multiple offers, discounts, and the annual Dubai Shopping Festival.
You will find that there are a number of ultra-modern shopping centers in Dubai and you will be surprised by the magnificence of these shopping centers. Apart from shops, all these shopping malls have entertainment zones, food courts, and restaurants. Have a bird's eye view of some of the Dubai shopping malls:
Top 10 Shopping Malls in Dubai
Dubai is a shopper's paradise, and there is no shortage of shopping malls and centers to choose from. But which ones are the best? We've compiled a list of the top 10 Dubai shopping malls and shopping centers, based on their size, location, amenities, and more. Click here to find out which mall is right for you.
Dubai Mall
Mall of Emirates / Emirates Mall
Wafi Mall
Drogon mall
Deira City Center
IBN Batuta Mall

Burjuman Center

Outlet Mall
Century Mall
Mirdif City Center
1. Dubai Mall
The Dubai Mall is a shopping mall in Dubai. It is the second largest mall in the world after the Iran Mall by total land area, and the 26th-largest shopping mall in the world by gross leasable area, tying with West Edmonton Mall and Fashion Island (Bangkok)—both of which are older than it. It has a total retail floor area of 502,000 square meters (5,400,000 sq ft). Located in Dubai, United Arab Emirates, it is part of the 20-billion-dollar Downtown complex (called Downtown Dubai) adjacent to the iconic Burj Khalifa and includes over 1,200 shops. In 2011, it was the most visited building on the planet, attracting over 54 million visitors each year.
Twice delayed, Dubai Mall opened on 4 November 2008, with about 1000 retailers, marking the world's second largest-ever mall opening in retail history behind West Edmonton Mall. However, it does not have the grossest leasable space and is surpassed in that category by nineteen malls including the New South China Mall, which is the world's second-largest, Golden Resources Mall, SM City North Edsa, and SM Mall of Asia.
2. Mall of Emirates / Emirates Mall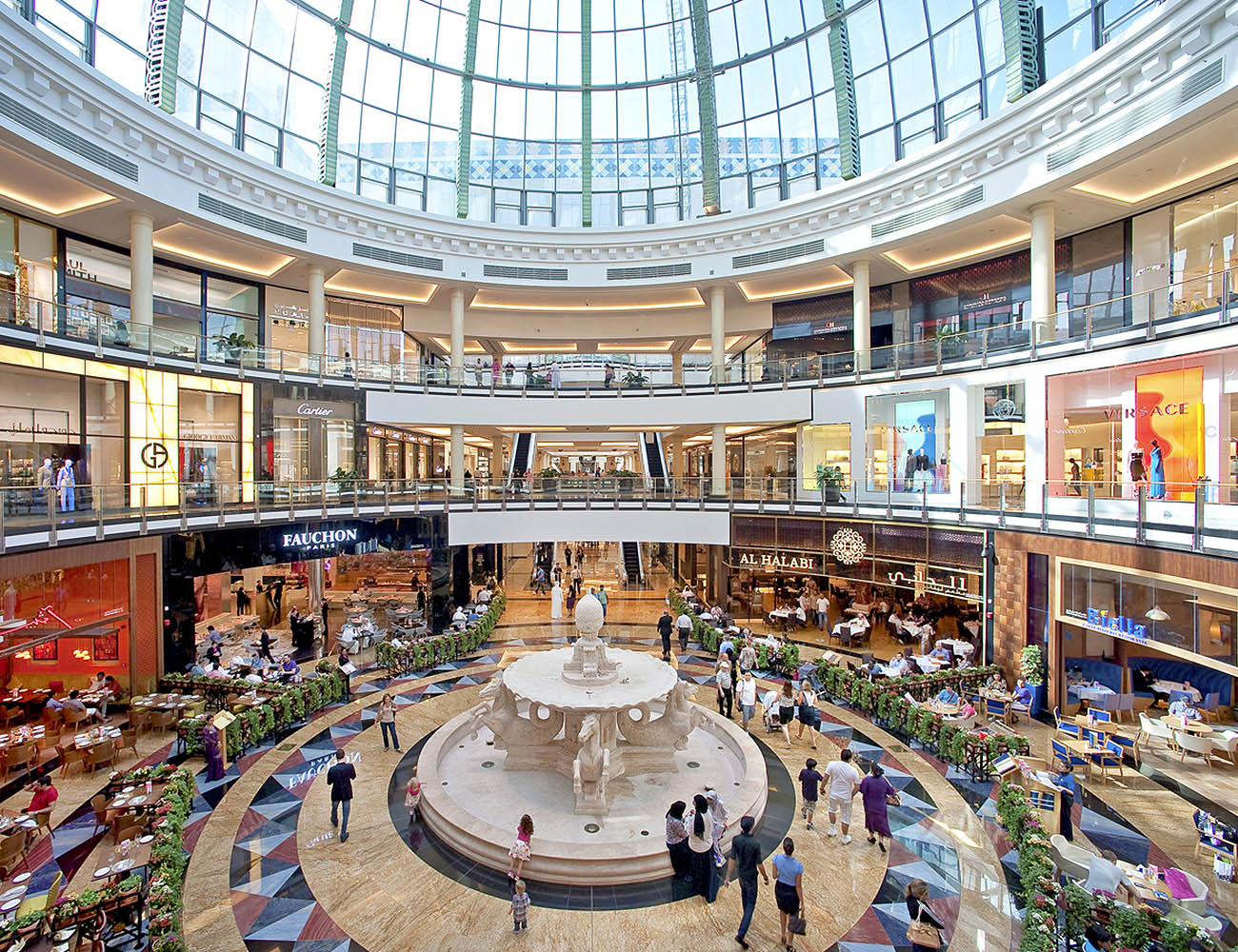 Mall of the Emirates is a shopping mall in Dubai. Developed and owned by Majid Al Futtaim Group, it opened in November 2005 and is located at interchange four on Sheikh Zayed road.
The multi-level shopping mall currently features more than 630 retail outlets, 7900 parking spaces, over 100 restaurants, and cafés, 80 luxury stores, and 250 flagship stores. It has a total gross leasable area of 255,489 square meters. It also hosts family leisure activities including Ski Dubai (the Middle East's first indoor ski resort and snow park), the 500-seat capacity Dubai Community Theatre and Arts Centre, and Magic planet, one of the largest indoor family entertainment centers in Dubai.
In November 2005, it was named the World's Leading New Shopping Mall at the World Travel Awards in London. In 2017, Forbes named Mall of the Emirates as one of the top five shopping malls in Dubai.
3. Wafi Mall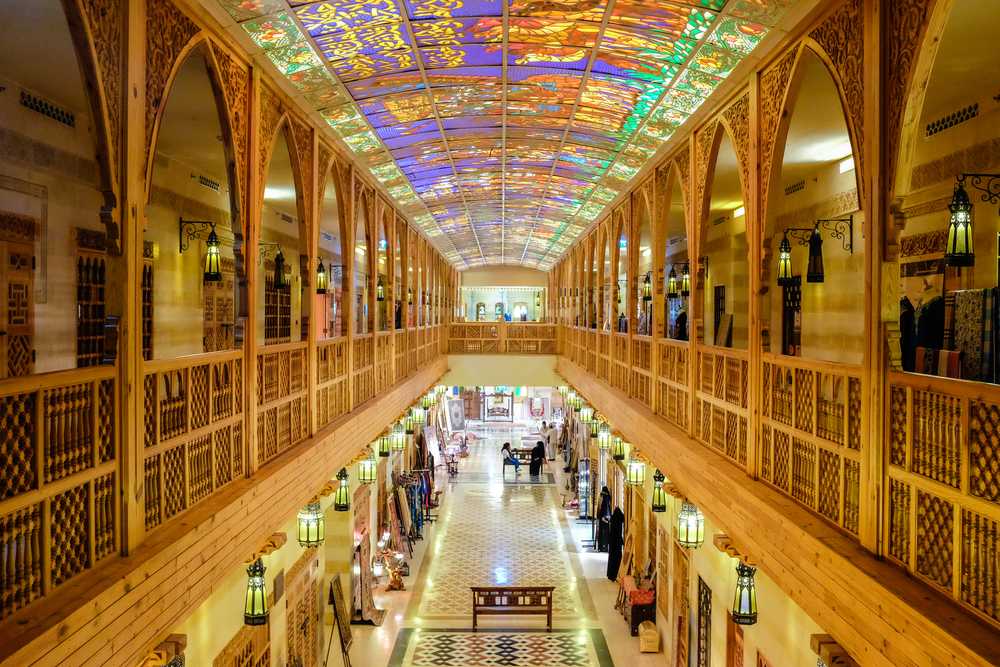 WAFI is a shopping mall located within the Egyptian-themed Wafi City Complex of Dubai. It showcases a distinct style of design with over 300 stores and boutique shops offering the visitors an excellent shopping experience. The Wafi Mall is spread over 5 levels with designated areas marked for shopping, entertainment, and leisure activities. The Arabian Souk located underground is an area that attracts immense attention with Cleopatra's spa being one of the tops draws here.
The artwork and beautifully sculpted images at Wafi Mall are reflective of Egyptian architecture right down to the glass ceilings and mirrorwork details on the sculpted banisters on the staircases. Opened in 1999, the Wafi Mall houses a huge Carrefour Hypermarket catering to the needs of the local populace and the ex-pats residing in and around Dubai. Individuals from all walks of life can also become members of the Pharaohs' Club in the mall, deemed to be one of the best fitness clubs in the city.
4. Drogon Mall
The Dragon Mall in Dubai, better known as the Dragon Mart, is the largest trading hub for Chinese products outside mainland China since 2004. The 1.2-kilometer-long, 150,000-square-meter dragon-shaped mall offers a stock of Chinese products at wholesale prices, housing about 4,000 distinctive stores in its arena. Comprising Dragon Mart 1 and Dragon Mart 2, the extensive mall is one of the best places for shopping and dining in Dubai.
The Dragon Mall is divided into seven zones offering everything from home essentials and furnishings to officers, electronic equipment to novelty items, food to medicines, machinery to gadgets, and even fashion accessories to clothing. One needs to pursue their skills of bargaining and haggling to buy almost anything at more affordable prices at this trading hub. Subsequent to the enormous accomplishment of Dragon Mart, an expansion was constructed and made functional in February 2016, featuring a hypermarket, restaurants, cineplex, a hotel, and a plethora of retail outlets over a 1,75,000 square-meter area. Together with this extension, the Dragon Mart Mall has now been titled the Dragon City of Dubai.
5. Deira City Center
If Burjuman is one of the premier malls in Dubai, then DCC, as we call it, is the first proper shopping mall in the city. It is located in Deira, a prime and one of the oldest regions. DCC still bustles and is easily one of the busiest malls during the weekends. Home to many brands and the electronic giant Sharaf DG, it also houses the VOX movie theatre, Magic Planet, and a bowling city.
6. IBN Batuta Mall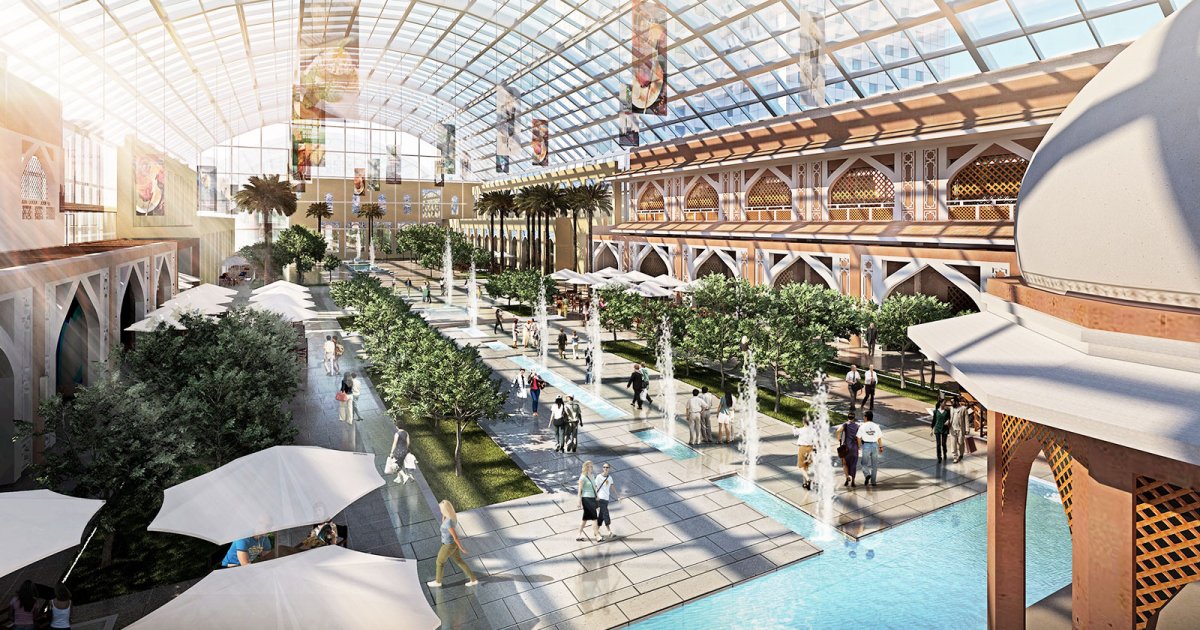 Having around 275 shops, 50 restaurants, and over 4,500 parking spaces on a total of 521,000 m2 (5,610,000 sq ft), Ibn Battuta is the world's largest themed shopping mall.[2] On 26 May 2013, Nakheel announced the tender for Ibn Battuta Mall expansion – a new, 28,000 m2 (300,000 sq ft) retail hub for another 150 shops.[3] This expansion introduced new shops in the mall, such as Decathlon, and Brands for Less, and includes a new food court in the upgraded metro link. The mall contains several activities such as a trampoline park, a light exhibition, the Carrefour hypermarket, and a 21-screen cinema theatre by Novo cinemas.
The mall consists of six courts, each of whose designs is inspired by some of the countries visited by the Moroccan Berber explorer, Ibn Battuta: Andalusia Court, China Court, Egypt Court, India Court, Persia Court, and Tunisia Court.[2] The India Court features a working reproduction of an elephant clock.
The mall is located next to the neighborhood of The Gardens and near the Delhi Private School and the Winchester School. Thus, the mall is visited frequently by residents as well as school students. The eponymous Ibn Battuta metro station on the Dubai Metro provides access from central Dubai.
7. Burjuman Center
BurJuman is one of the oldest shopping malls in Dubai, in the residential area of Bur Dubai, in Dubai, United Arab Emirates. It is developed and owned by the Al Ghurair Group. The distinctive landmark comprises over 2.8 million square feet of mixed-use space including the shopping mall, business tower, hotel suites, and duplex residences. The mall comprises over 800,000 sq ft (74,000 m2).
In November 2003, BurJuman won 2 MAXI Merit awards from The International Council of Shopping Centers. In March 2006, BurJuman was awarded the "Mall of the Year" award at the prestigious 1st Retail Middle East Awards.
8. Outlet Mall
Unlike others, this mall is not situated in the city, but in the outskirts of Dubai. Perhaps this is why it is relatively less crowded. However, this hidden treasure is one of the favorites among the residents thanks to the sale it provides.
The 'Outlet' themed mall, offers Warehouse/ Factory sales and always has 40%-90% off any time of the year. Sale season is a big deal at this mall, and you'll see the entire city flocking to the mall during the sale season, as it ensures unbelievable discounts on all the major fashion brands, perfume brands, sports brands, and many others. Housing more than 200 stores, various eateries, and a play area, it also has the largest Chuck-E-Cheese in the country.
Checkout Guide: Perfume Souq Dubai
9. Century Mall
Opened in 2003, Century Mall is a famous neighbourhood mall in Al Mamzar area, Dubai. Built over two floors and has shops that sell Arabian attire, perfume, accessories and electronics along with being home to excellent coffee shops, a hypermarket, some pharmacies and an activities/play area for children.
Century Mall spans an impressive 300,000 square feet of which 150,000 square feet are dedicated to retail. It houses over 70 speciality stores along with a food court. The appeal of this mall lies in its prices; as a neighbourhood mall, the prices here are significantly lower than other malls in Dubai. The Century Mall isn't as big or as fancy as other shopping destinations in the city, but it still holds a modest appeal and meets every kind of shopping demands.
10. Mirdif City Center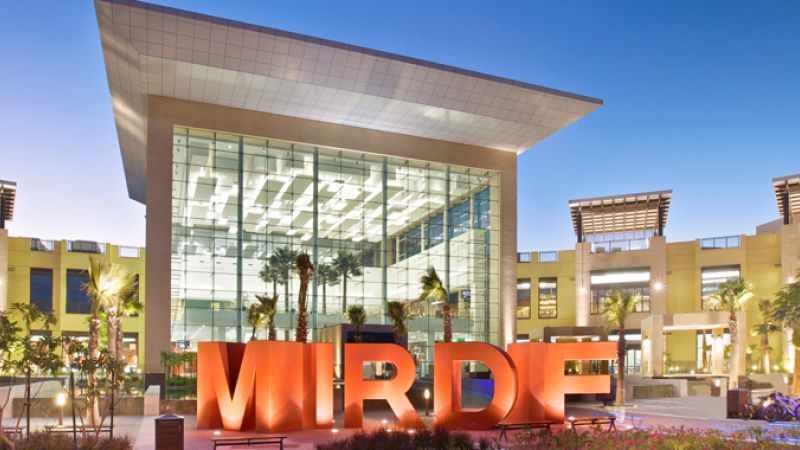 Mirdif City Center is relatively newer than the lot. Located in the sophisticated locality of Mirdif, this new mall has already become quite popular with the residents as it houses some of the most iconic and affordable brands. The mall has something suitable for all kinds of budget, and when the mall has sales, the entire city comes here to shop. Most importantly, the entire mall is eco-friendly. MCC offers varied entertainment choices, such as IFly which is an indoor skydiving centre, Sky Trail and Climbing Wall, Little Explorers which is primarily for kids, Soccer Circus Dubai, AquaPlay, Vox Cinemas and Magic Planet.
Read More Articles
Business Setup Consultants in Dubai